Your horse's full health picture can seem like a huge puzzle. An equine physical exam helps your veterinarian put together all of the pieces to determine what horse care services will help keep your horse healthy. Jacksonville Equine Associates of Jacksonville, FL lists what you need to know about the full physical exam.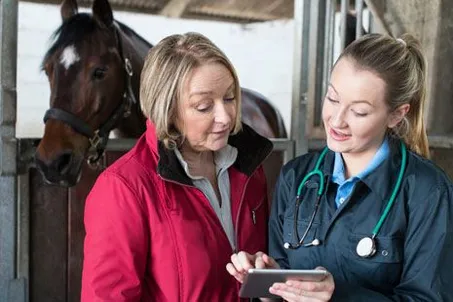 When to Get a Full Equine Physical Exam
You need a horse exam in Jacksonville or elsewhere for many circumstances, including:
The annual wellness exam
A pre-purchase exam
When a horse has come down with an easily diagnosed condition like infertility
When a horse is showing a disturbing set of symptoms for seemingly no reason, such as being exhausted all of the time.
There are many parts to a full physical exam. Let's look at some of them.
Going Over Your Horse's Medical History
Usually, the first part of a horse's physical exam is a close look at your horse's medical history. You may be asked a lot of questions about your horse's habits and behavior.
Going Over Your Horse's Vitals
These are the steps taken in most veterinary wellness exams. Our equine vet will take your horse's pulse and temperature. Your vet listens to the heart, lungs, and four quadrants of your horse's belly. Our vet looks closely in the mouth at the teeth and gums. Our vet will also shine a light in your horse's eyes to test if the horse sees normally.
Doing Palpitations and Closer Checks
Our vet will palpitate several areas of your horse's body, feeling for any abnormalities. We will also be checking for any signs of pain from your horse when touched in this manner. We will assess your horse's legs, hooves, and lymph nodes.
Flexion Tests
Our vet will also want to lift and bend your horse's legs to test for soundness, anything that feels abnormal, or any signs of pain. Unlike flexion tests given when your horse goes lame, your horse should not need a tranquilizer.
Further Testing
Many horse owners choose this time to get a blood test. Based on your vet's findings from the physical exam, more tests may be recommended. Hopefully, after all of this, your horse will not need emergency equine care services.
Your Equine Veterinarian in Jacksonville, FL
If you have a horse, pony, donkey, or mule and live in the Jacksonville, FL, area, call Jacksonville Equine Associates at (909) 387-3330 to make an appointment today. We service Glynn County in GA and the counties of Baker, Nassau, St. Johns, Duval, and Clay. We also treat goats and sheep.